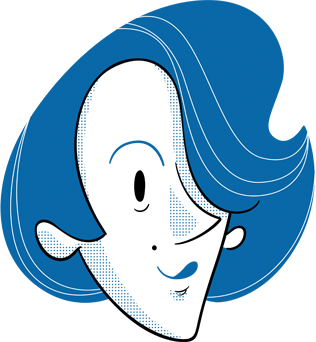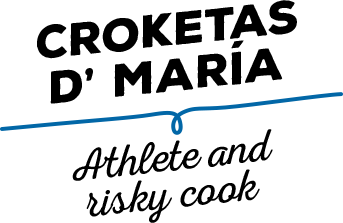 In almost every gang there is an adventure-lover, an extreme sports freak: that would be María. Beneath that pretty girl surface there is a woman not fit to stay in watching tv. That´s why, whenever she can´t go mountain biking or climbing she storms in the kitchen and channels her energy towards her cuisine. And since she loves taking risks, she doesn´t care if her `squid in its ink´ croquetas have a black heart; the taste is spectacular!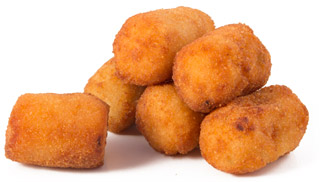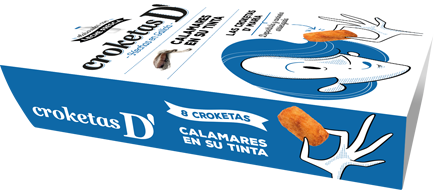 SQUIDS ARE NOT THE SAME WITHOUT THEIR INK
Some of María´s friends feel overwhelmed by the dark interior in her croquetas, but that´s the best for her. Besides giving them that particular look, she knows squids don´t taste so good without their own ink. Moreover, she gets first quality squid from her fishmonger, no chances taken on that side!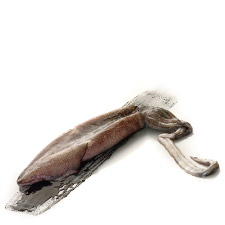 Ingredients: Pasteurized cow milk, wheat flour, butter (pasteurized cream and lactic ferments), squid stew (Todaropsis eblanae, onion, tomato, white wine (contains sulfites), extra virgin olive oil, sepiaink and spices) (15%), salt, breadcrumbs (wheat flourand yeast), feeding mixture (wheat flours).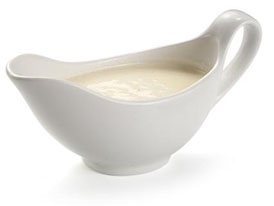 ORIGINAL HOME
-

STYLE BÉCHAMEL SAUCE

Flour, butter and fresh milk. The secret of these "croketas" is in the béchamel sauce, made with the traditional recipe, using only fresh and natural ingredients. Only with the best béchamel sauce you get the best "croketas".

COOKED TO PERFECTION...

Don´t defrost "croketas".

Fry in a frying pan or fryer with plenty of very hot olive oil (180ºC) for 3-4 minutes until golden. "Croketas" must stay completely submerged. Drop few at a time so as not to decrease oil temperature.

Let stand for a minute.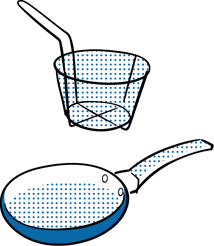 Tip: Do not ever reuse burnt oil. However, if you have kept it frying at in between 160º and 180ºC, you can reuse it several times if you preserve it carefully using a coffee filter. Should you need to dispose of it, take it to a Green Point inside a plastic bottle, being highly polluting.

ALLERGENS
Lactose

Gluten&nbsp&nbsp&nbsp&nbsp&nbsp&nbsp

Fish&nbsp&nbsp&nbsp&nbsp&nbsp&nbsp