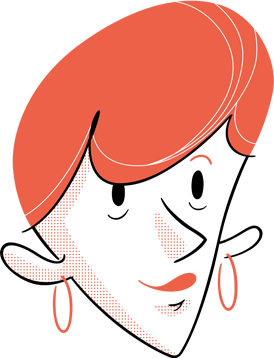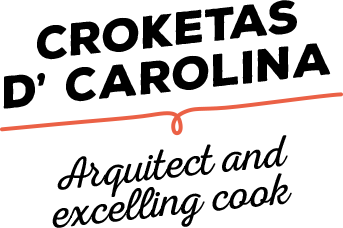 Carolina is one of those architects who is not satisfied with just building things. She wants to push it forward, generating experiences, proposing new concepts. That´s why she plays with fusion in spaces, materials and shapes. And because it´s part of herself, that same fusion she applies to food. Her star recipe is croquetas, made with some very special ingredients: smoked salmon and Cebreiro cheese. In architecture she is still finding her way, but she is already there with her cuisine!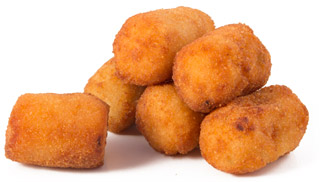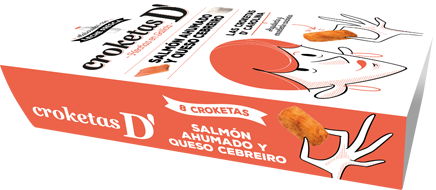 NORWAY AND GALICIA, TOGETHER IN THE BEST CROQUETAS
Only Carolina could have been able to fuse so deliciously two so very distant ingredients. Salmon comes straight from Norway, and cheese they make it in her home village of Castroverde: real Cebreiro cheese D.O.P. There they were left stunned by the amazing result. Let yourself be surprised too!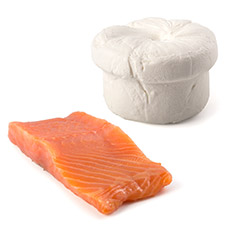 Ingredients: Pasteurized cow milk, smoked salmon (Salmo Salar) (13%), wheat flour, butter (pasteurized cream and lactic ferments), Cebreiro D.O.P. cheese (pasteurized cow milk, rennet and ferments) (3%), salt, dill, breadcrumbs (wheat flourand yeast), feeding mixture (wheatflours).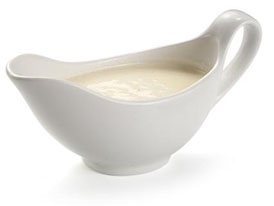 ORIGINAL HOME
-

STYLE BÉCHAMEL SAUCE

Flour, butter and fresh milk. The secret of these "croketas" is in the béchamel sauce, made with the traditional recipe, using only fresh and natural ingredients. Only with the best béchamel sauce you get the best "croketas".

COOKED TO PERFECTION...

Don´t defrost "croketas".

Fry in a frying pan or fryer with plenty of very hot olive oil (180ºC) for 3-4 minutes until golden. "Croketas" must stay completely submerged. Drop few at a time so as not to decrease oil temperature.

Let stand for a minute.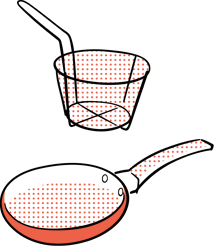 Tip: Do not ever reuse burnt oil. However, if you have kept it frying at in between 160º and 180ºC, you can reuse it several times if you preserve it carefully using a coffee filter. Should you need to dispose of it, take it to a Green Point inside a plastic bottle, being highly polluting.

ALLERGENS
Lactose

Gluten&nbsp&nbsp&nbsp&nbsp&nbsp&nbsp
Fish&nbsp&nbsp&nbsp&nbsp&nbsp&nbsp